Name: Lunar: Silver Star Story
Platform: Playstation
Made by: Working Designs
Type: RPG

This is without a doubt the sleeper hit of the year. It is one of those true gems that comes along only everyone and a while. This game follows the adventures of Alex who wants to become a great adventurer like his idol Dyne, following him around is his "girl friend" Luna, overweight pal Ramus, and little cat thing Nall. As with most RPG's soon a lively cast of other misfits come out of the shadows, to either help or hurt Alex. This is a remake of a Sega CD version by the same name. The Playstation has revamped the graphics and sound to a higher level. Because this is a remake Working Designs went all out to ring you a jewel of a game. Along with the actual game you get a Music CD, a making of CD, and a cloth map of the Lunar world. Even the instruction manual got special treatment, it's hard bound in leather. For what you pay for you get a great deal. Lunar: SSSC is a must have for any RPG fan.
And one last thing, even if your the kind of person who doesn't use strategy guides, get the Lunar guide any way. The guy who wrote it has a wit sharper than any comedian, the guide has jokes and witty comments on every page! Plus it comes with Anime checks, these little jewels print out all the lovely dialogue in the Anime scenes. Also Retro Checks are included, these compare the Playstation and Sega versions of the game and tell you what was changed in this remake.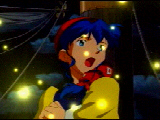 After this screen shot was taken Luna jumped from the mast, and made it on Worlds Most Freakn Crazyist Home Videos.

Graphics: 3 of 5
In an age where was are all drooling over the superb graphics of FF7 and FF8 Lunar: SSSC is a throw back. They still look 16 bit, but the one thing that seems to balance this out is the cinema scenes. They aren't this fancy CGI crap they are good old fashion Anime. This is an Anime RPG.

Sound: 4 of 5
The sound is some what out dated, the music while updated is still no where near that of FF7 of FF8. The sound effects how ever are great, in the Anime cinema scenes the sound effects are used at just the right times to bring the characters to life.

Fun Factor: 5 of 5
This game has hidden jokes every where! Talk to the right people, and examine the right things to activate hidden dialogues between the characters. This game also has an entertaining story.

Challenge: 5 of 5
Lunar: SSSC has a unique way to keep the bosses challenging. I call it the Boss Escalation Theory, the boss's stats are always based on what ever level Alex is at. So no amount of leveling up is going to help you here un less you can get past level 50. Good Luck.

Over all: 5 of 5 Must Have
-Ethan